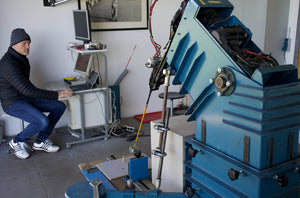 TECHNOLOGY
Golf technology – and terminology – can be a minefield, and this page is here to help you.
SFT – Switch Face Technology
The ability to change your club face to create a true loft by using a range of interchangeable face plates.
TST – Twin Slot Technology
CCT – Ceramic Core Technology
Exclusive Lynx process used to develop Twin Slot Technology from a one piece constructed iron head. This technology is costly but produces a far more consistent and superior product than a two-piece constructed head.
EET – Effective Energy Transfer
A device (system) unique to Lynx that is present on the inner surface behind the striking face of a golf club that disperses energy effectively across the hitting areaoffering greater forgiveness on off-centre hits. EET will also help to maintain a consistent ball flight off the driver face.
VT – Variable Thickness
Redistributes extra thickness and weighttowards the periphery of the club face. This Technology reduces the amount of sidespin imparted on off centre hits from the centre by up to 36%, the result of this is improved accuracy and greater distance on all off centre hits.
WBS – Weight Bar System
Reversible weight bar on the sole which means the player can reposition weight to the front or back of the club head. By repositioning this weight, it gives the player ultimate control over their preferred launch angles and ball spin – giving more control and accuracy.

PFT – Progressive Face Thickness
Enables weight to be distributed around the club face giving maximum performance on all off-centre hits.
CFT – Curved Face Technology
Reduces back-spin and "ball jump" at impact by creating early top-spin which results in a truer and more consistent roll.